Ubud, Bali
Go to Bali? Go to Ubud!
27. Mai 2014
As some of you travelers may know, arriving in Asia always means arriving in a different world. When you get out of the well climate regulated airport building you will be kissed the Asian way! 
It is hot, it is humid, it is loud and the smell is different. And you will better look for a budget shuttle to your accommodation because driving on your own is quite challenging – it still is an adventurous ride on the back seat of a cab. Well, at least that´s exactly what we experienced when arriving in Denpasar, Bali Airport.
Once we´ve made it to our hotel the "other side" of Asian experiences turned out: Heartly smiles, a cold, exotic welcome drink and huge villas for small money. Just wow!
Ubud – a deep dive into tradition
We´ve chosen to spend our first days in Central Bali: In Ubud, the cultural capital just in between thousands of hectare of rice fields. Even though it is getting more and more touristic, there is a mystic aura in Ubud, especially when you leave the beaten tracks.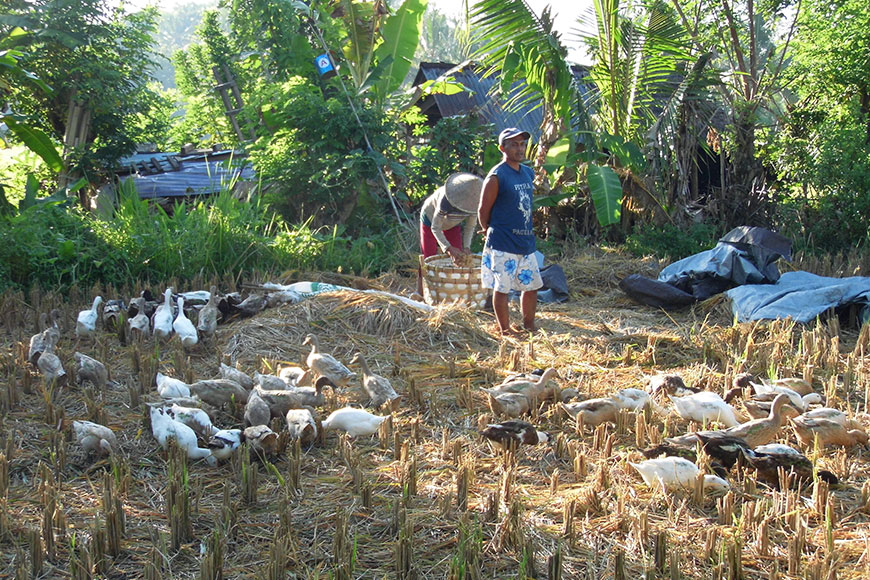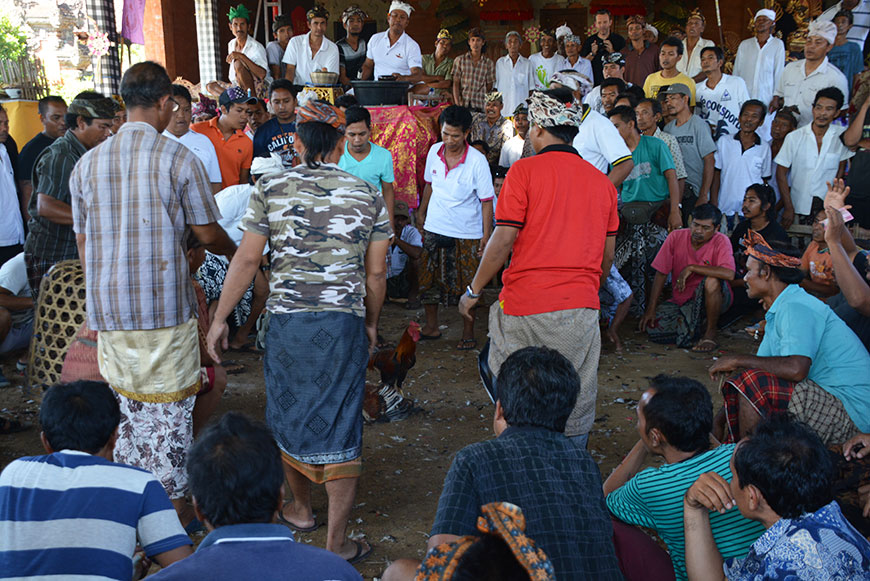 Get spiritualized
Maybe it is because of the billions of temples, maybe because of the festively decorated streets, buildings and holy trees. For us it was the perfect spot to get first impressions of Indonesia and the Hinduism –  also a perfect spot for small local explorations.
A very impressive spot is the holy spring water temple »Tampak Siring« in the North of Ubud. The perfect place to take a holy shower – and to have a look on Asian tourists meeting Hindus.
A quite touristic highlight of Ubud is the famous monkey forest temple. But even for those who are not so interested in these funny animals (we were´t…) it is a really beautiful place for a walk and  you should not miss.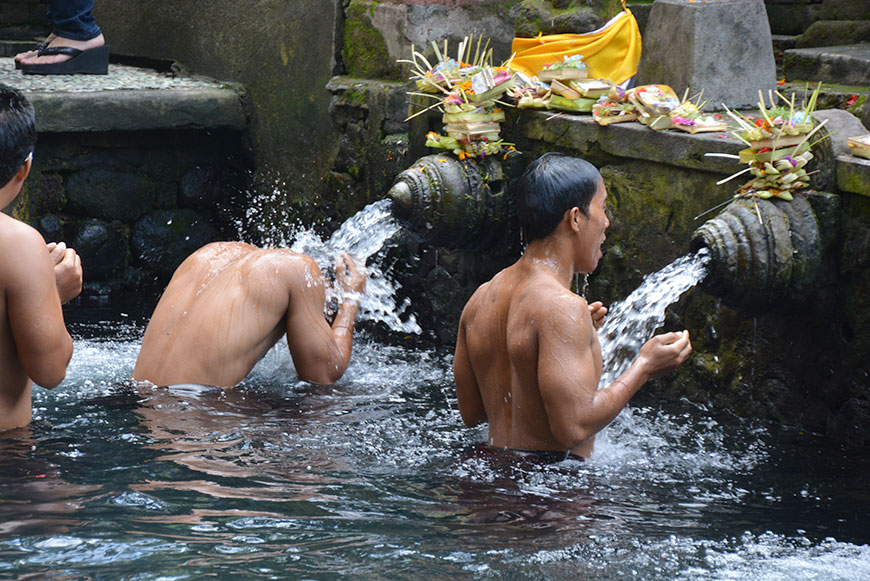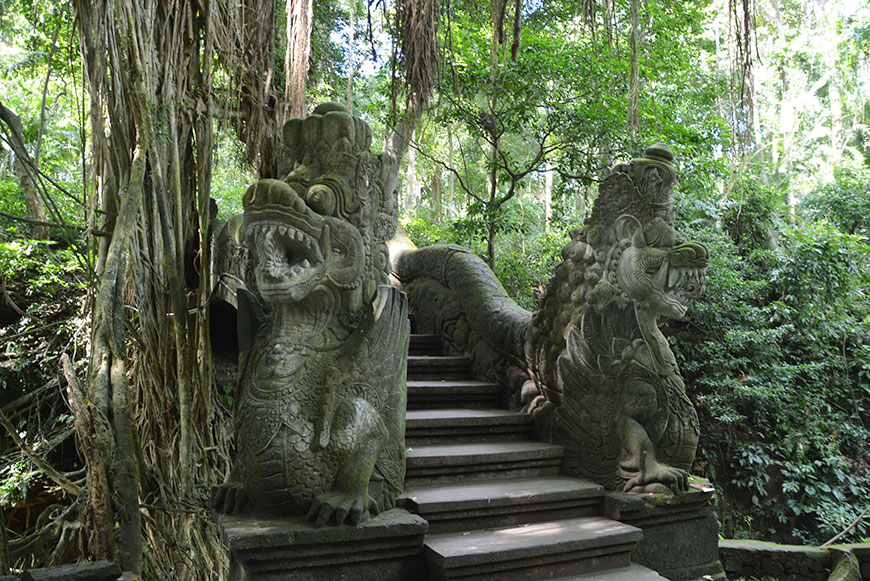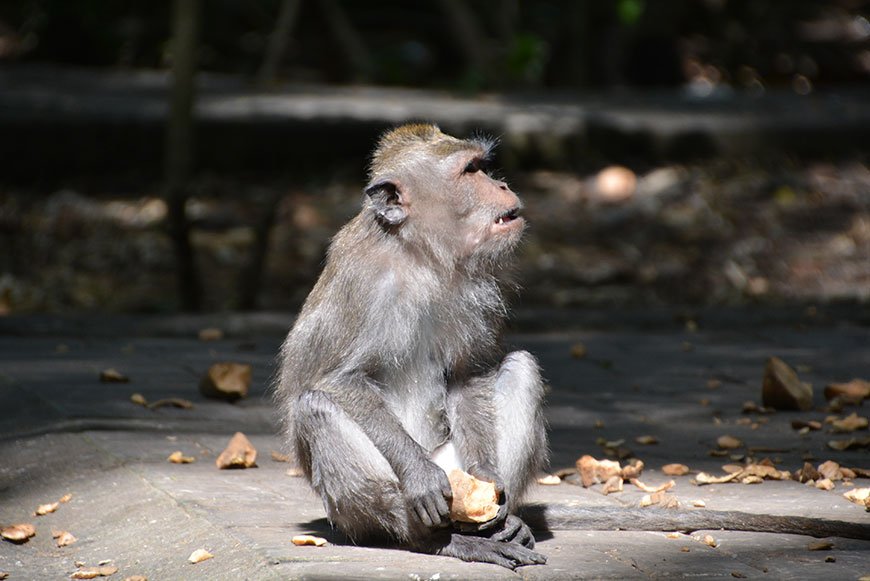 Some kind of Gourmet …
For those who are interested in food and beverages – you will find a gourmet candyland in Ubud as well. Indonesian food is more than just Nasi Goreng! We tried lots of different tastes – and one of the worlds most craziest gastronomic specialities: Kopi Luwak. Believe it or not, it´s just cat-poop-coffee which is incredible expensive in the Western World.
There is even much more to explore in Ubud. Actually you will feel far far away from everyday life while you are there – feel what it means to be »Out Of Office«.
Thank you Ubud for a warm welcome in Bali and really nice days without even any Australian booze-surf-tourist. Next stop – Jimbaran.