Kalifornien, USA
California – along the pacific ocean
6. April 2014
Sorry, we cannot manage NOT to tell you more about our great time in California. So please don´t be mad at us while we – again – have to present you a variety of pictures which might cause some kind of wanderlust (I just love this word, in German it´s "Fernweh").
Please, take it as a recommendation to go there once. And if you´ve already been there, you´ll probably find yourself lost in good old memories. So, welcome to California´s wild coastline!
From the Vanity Fair to a lonesome desert
After three quite and relaxed days in our perfect American beach cottage near San Diego we´ve started into a road trip along the popular Highway 1. The first day´s stage took us right through the famous suburbs around Los Angeles. We stopped for an early morning coffee at Huntington Beach and drove further along Long Beach and Santa Monica. In Venice we made a picnic break for lunch and watched the freak show on the Venice Beach Boulevard with lots of easygoing surfers, cool skaters and especially very, very strong men.
In the afternoon we went on along the coastal line to Malibu and Santa Barbara up to the little town of Pismo where we spent the night. Just before sunset we decided to make another stop at the huge Guadalupe-Nipomo Dunes National Reserve with North America´s largest remaining dune system. Suddenly you feel as if you were in a desert. And If you have seen Pirates of The Caribbean III you might recognize this surreal landscape from the movie.
Luckily we were the only visitors (as the park closes at 7 p.m. and we just arrived 30 minutes before). So we could enjoy a spectacular sunset just on our own….
The Big Sur
The next morning we get up early to drive along the Big Sur, which really is an outstanding part of the coastal highway. The distance is only about 100 miles but as we stopped by about every few minutes to enjoy another spectacular view (and to take hundreds of photos) it took us the whole day. No worries, we won´t show you all of the pictures we made – you only get the best of it! And in addition we had a lovely encounter with some quite lazy guys: a colony of sea cows.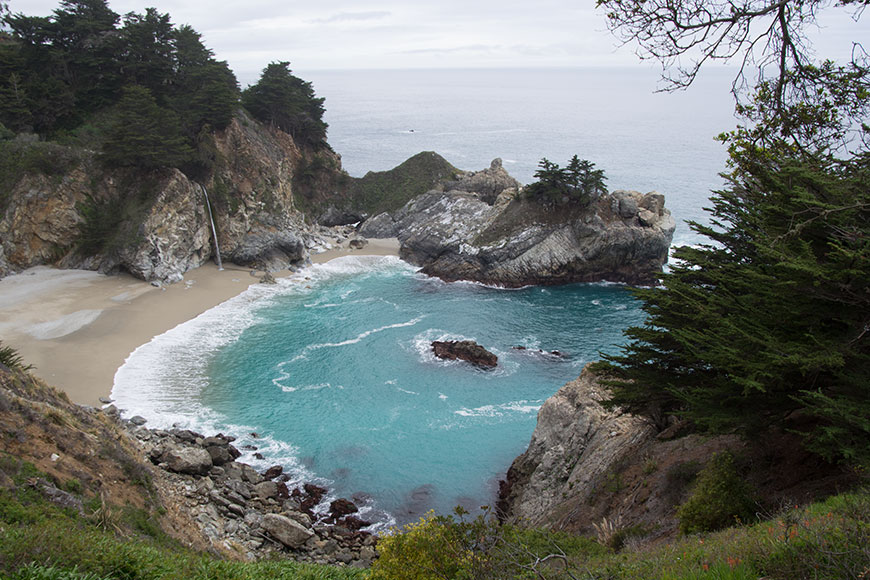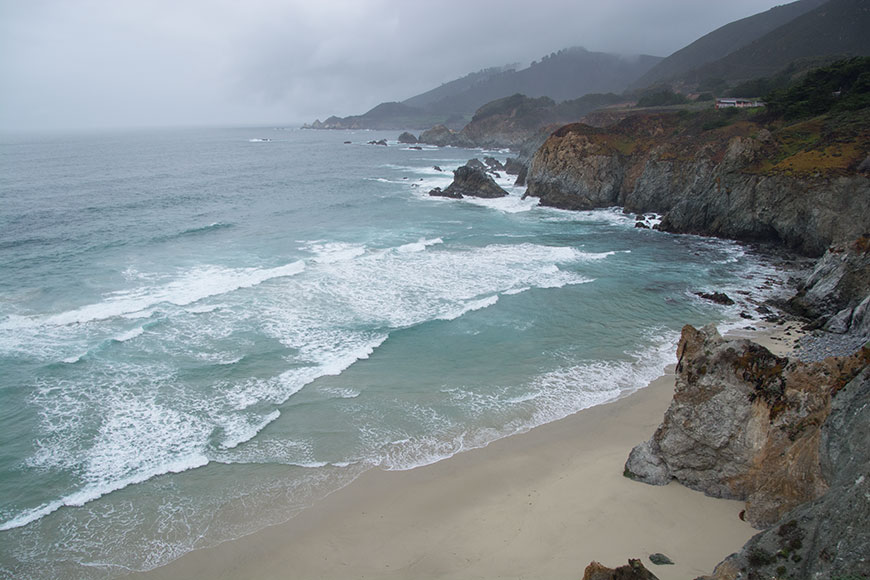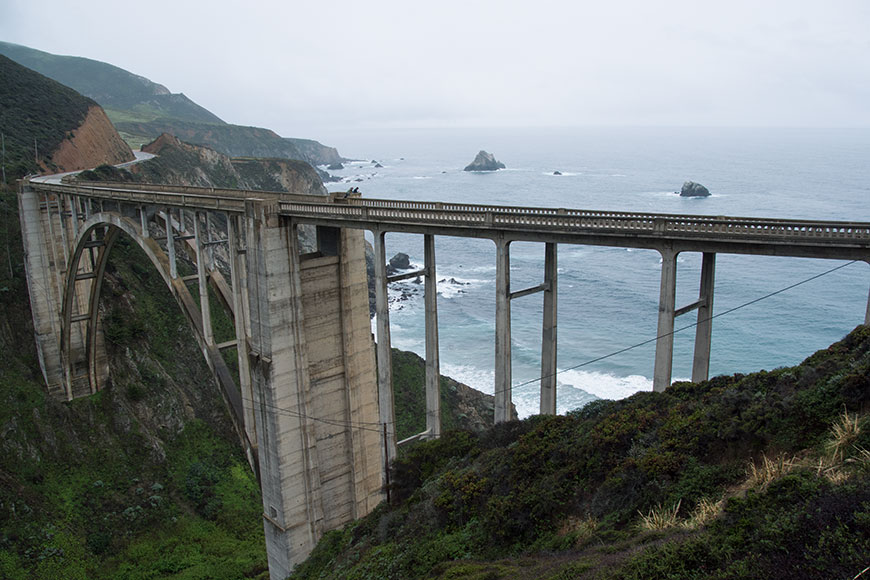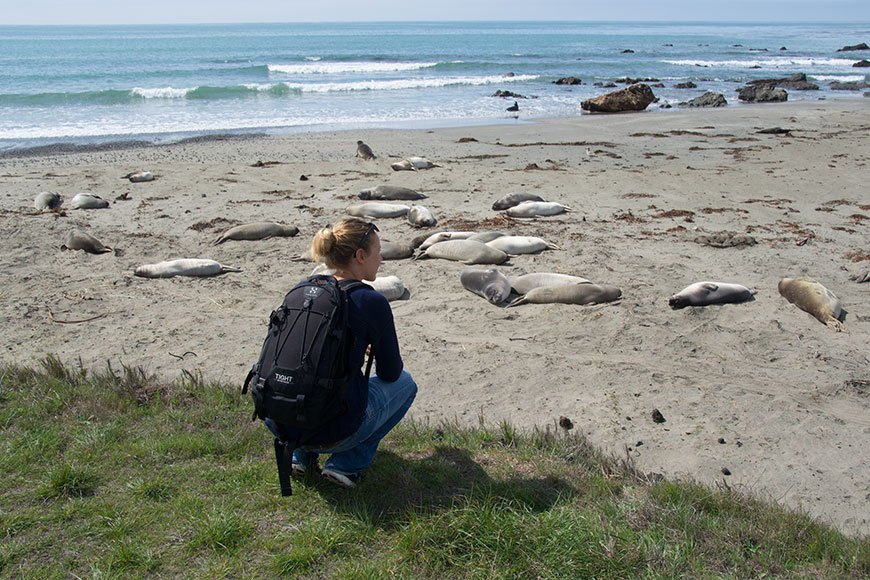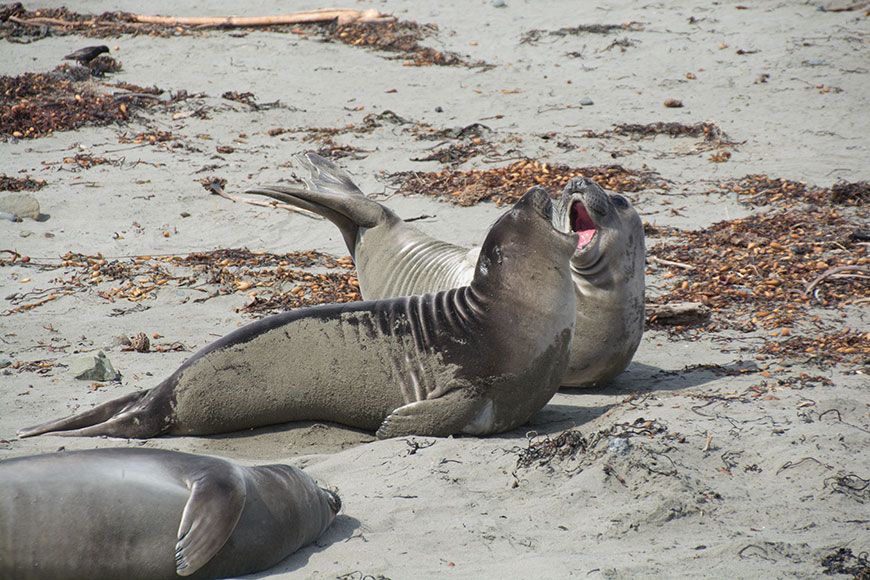 Spotting the killer
We arrived our next destination Carmel by the sea in the Bay of Monterey in the late afternoon – just perfectly in time to rejoice in the complimentary wine tasting our motel was offering. This night we ended up a little drunk by the delicious local red and white ones. But the region Monterey is not only famous for its wines but also as a whale watching spot, especially in the period of January to early April. So on our second day at Carmel we entered a boat to follow these impressive mammals. Fortunately we didn´t get seasick (as most of the other passengers). We just enjoyed playing sea lions, a group of dolphins and some humpback whales. … And – unforgettable – a killer whale crossing our way. It was amazing!