Marrakech, Marokko (Werbung)
The Art of living – in Marrakech
30. Oktober 2014
It has only been five days that we´ve spent in Marrakech in total, but there is still so much more to tell about it. So let´s end up with a little story about a special Art Déco collection we´ve found in a lovely riad in the southern Medina.
Two become one
The Villa Makassar is not really just one riad, it is made of two separate houses. Five years of collaboration with Moroccan teachers working with wood, plaster, tadelakt, marble, ceramics, wrought iron, glass, tapestry, painting… rebuilt ​​these two riads into one hotel – and into a great reference of Art Déco in Morocco.
Fascinated by the period 1920-1930, the owner of the Villa Makassar travelled all around the world to follow his passion and to collect unique pieces to integrate them into the overall interior design. The result is a riad, which invites you to wander around the chambers and to follow the small Art Déco details all around the house. Take your time to explore.
Luckily, we had the chance to meet the owner at Villa Makassar and listen to his anecdotes where and when he found some of his favourite pieces. He also told us about his visit to Berlin when he – amongst others – went to the bungalow of Mies van der Rohe in Lichtenberg (which is one of our architectural favourites in Berlin as well). "And do you know where I found those door knobs over there?", he asked us with a smile. "At a flea market in Berlin Kreuzberg. There was a merchant with a huge amount of old metallic door knobs – I bought them all!" That´s why you now can find a little peace of Berlin in Marrakech!
Art Déco meets Orient
We were guests at Villa Makassar for two days and nights. And we were glad to be invited to spend this time in the beautiful GrandLuxe Suite "Ruhlmann" named after the French interior designer Jacques-Émile Ruhlmann. Plenty of space to relax and enjoy. The mixture of strong Art Déco elements and traditional oriental designs were surprisingly convincing.
But although the suite was really comfortable we didn´t want to spent all day in our room. Especially not when there is so much more… The effect of rebuilding two riads into one is a huge rooftop terrace – the biggest you´ll find in Marrakech. With shadow daybeds, refreshing showers, a nice bar and even a big pool one level below, the rooftop of Villa Makassar is the perfect place for a rest in the afternoon when the sun is shining too hot to be outside in the Medina.
The Art of Dining
Art is omnipresent at Villa Makassar. There is no exception with the food. It starts with a sweet "welcome surprise", followed by a delicious breakfast in the morning and ends up with several a la carte menus and snacks. It´s always your choice where you´d like to eat. We preferred the rooftop terrace but the lovely little yards are quite cosy as well.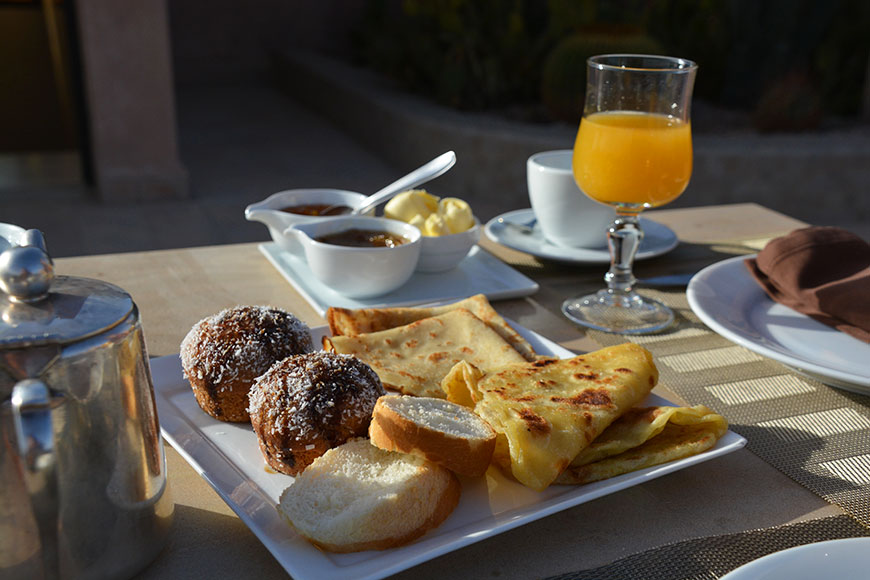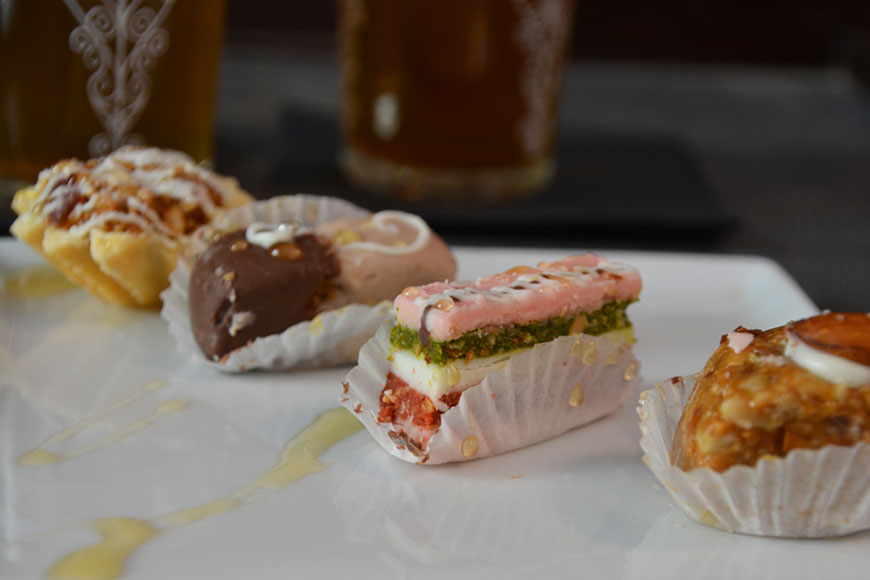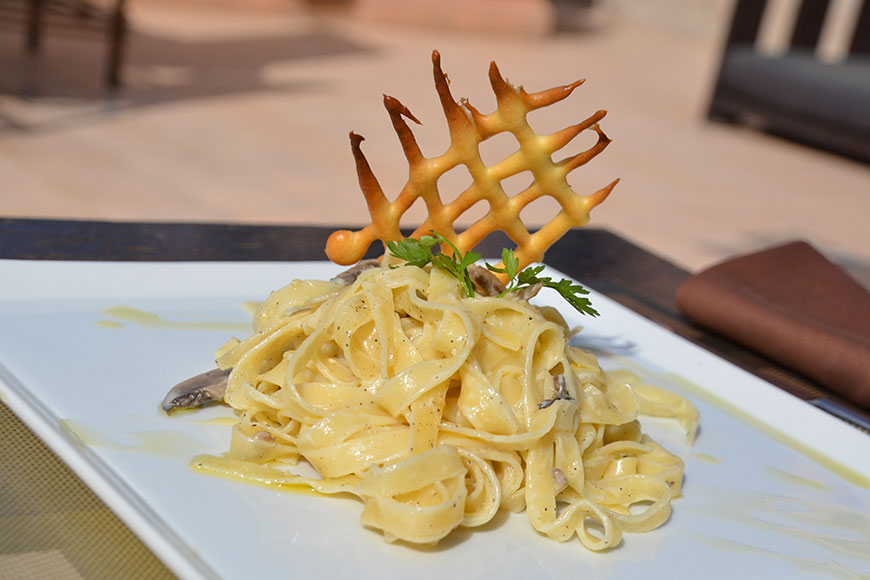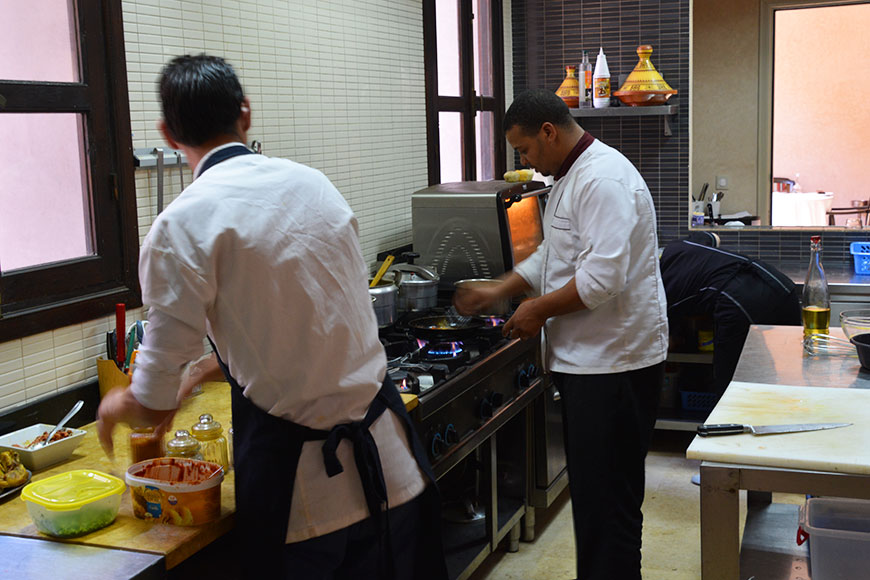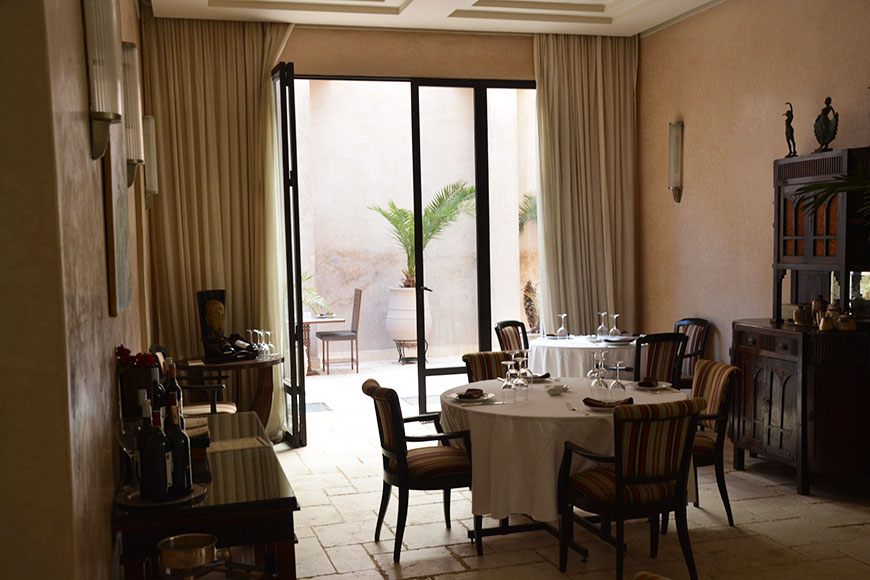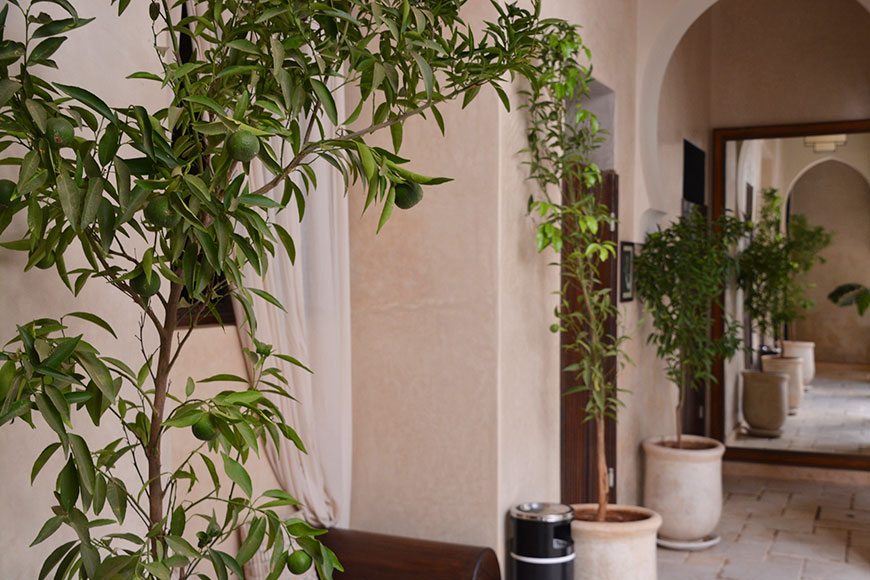 Well, again another interesting aspect of Marrakech. We didn´t expect to find such a lovely Art Déco home within the Medina. Actually it was a recommendation by hotels.com and part of its reward program that lead us to this place – so we were just lucky! And as you can imagine, it was not easy to say "Goodbye" to Villa Makassar – and to Marrakech. Next stop: Atlas Mountains. And so much more to explore about Morocco…
Thanks to Villa Makassar for the lovely welcome.
Please note: This article is part of a cooperation. It still reflects the veridic opinion of the authors. The cooperation partner did not influence the content. More information: www.villamakassar.com